by Deanna Utroske
Technology is rapidly expanding what's possible in the cosmetic and personal care industry. Innovations in beauty tech translate into personalized experiences and enhanced product efficacy for consumers at home. And instrumental assessment tools as well as treatment technologies that support dermatologists, medi-spa practitioners, and aesthetic centers are revolutionizing the client experience.
Adapting to Beauty Consumer Expectations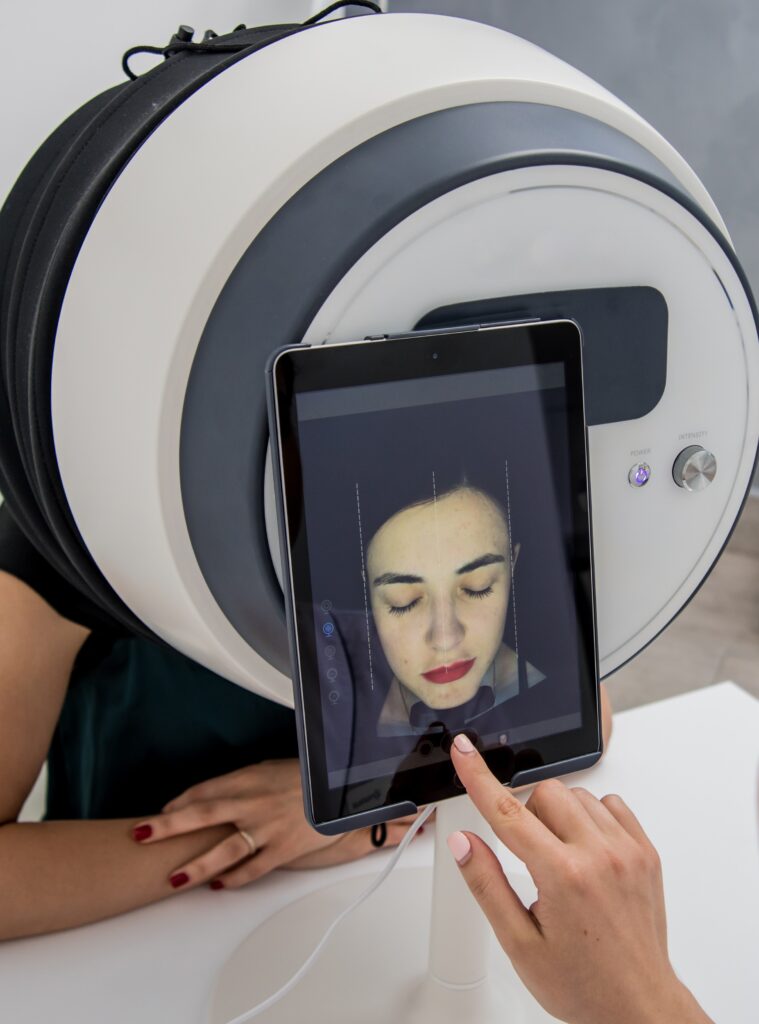 Beauty tech is helping meet consumer expectations for more holistic and wellness-inspired products. Which is why Amorepacific teamed up with Seoul, South Korea – based sleep tech innovator Asleep. The company has developed acoustic AI software that monitors patterns of breathing simply by 'listening' through a smartphone mic. And beauty maker Amorepacific plans to leverage data gathered through this contactless sleep-tracking technology to help consumers choose the overnight skincare products that actually help them sleep well.


Perfect Corp—headquartered in New Taipei City, Taiwan—is perfectly prominent in the global beauty tech sector. Perhaps best known for its virtual try-on technology, which allows beauty consumers to digitally try on color cosmetics. The tech company has used its AI, AR, and facial mapping systems to expand services for beauty brands and retailers; Perfect Corp apps now facilitate foundation color matching, skin diagnostics and, just this summer, skin type detection.
Beauty Tech Innovations for At-Home Use
Geske
, which proudly describes itself as a German beauty tech company, is based in Berlin and is literally putting cutting-edge skincare technology into the hands of consumers. With a single beauty app, over 250 tech tools, more than 150 different technologies for cleansing, steaming, scrubbing, energizing, refreshing, hydrating, lifting, smoothing, rolling, microneedling, microdermabrasion, and much more, Geske is aiming to be a household name in the tech-supported-device brand space. Oh! and each Geske device is available in 11 different colors, a fun option for consumers and a clever twist on brand color psychology.
Ulike
specializes in Intense Pulsed Light (or IPL) hair removal technology and makes at-home consumer devices. The Hangzhou City, China – based company's newest tech can be seen in its Sapphire Freezing Point Hair Removal Device, which combines four skin-cooling technologies to ensure painless and burn-free treatments. The device also features high-energy and fast light output, a large light-emitting area, and is sold in 3 colors.
Beautigo 
develops at-home tech devices too. Beautigo is owned by Shenzhen Yangwo Electronic Co Ltd. This Shenzhen, China – based brand makes skin treatment tech tools like the Wrinkle Terminator and the Iron of Eyes; hair removal tools for use on the face and all areas of the body called the Skin Camera, Beauty Master, and Sapphire Legend; and The Niuniu automatic curly hair device which does just that, adds curl to the hair one section at a time without the consumer having to learn any styling techniques or artful gestures to avoid the potential burns of conventional heat tools. It's an assortment of tech devices that nicely illustrates how hand-held-technologies have applications across multiple care, treatment, and styling categories.
THB
is another China-based beauty device company to watch. Based in Dongguan, THB or Touch Health Beauty takes beauty tech into even more personal care and beauty categories, including oral care (with its sonic toothbrushes) and sun care and complexion product application (with its auto-vibration application puffs for use with sun cream, foundation, concealer, BB cream, setting powder, and more).
Tech Innovations for Salons and Spas

In the professional beauty channel, diagnostic instruments and treatment tech tools are just some of the places we can look to find technology at its best.
Bomtech Electronics innovates in both the diagnostic and treatment sectors. The Seoul, South Korea – based beauty tech company got its start in 2000 and shortly thereafter developed skin and hair diagnostic systems. Over the years, Bomtech has advanced it capabilities in camera tech, software, and imaging as well as in the medical sector, in skin cleaning , micro-needle therapy, and permanent makeup application devices. One of the company's most recent beauty tech innovations is the Bom Eye technology, which enables Bluetooth skin and scalp analysis.
MEICET, a brand owned by China-based Shanghai May Skin information Technology, also develops, manufactures, and sells analyzer technologies—specifically machines for skin analysis, body analysis, and hair analysis. The brand caters to hospitals, dermatologists, medical and aesthetic centers, medi-spas, fitness centers, and other similar care and treatment providers. MEICET, like many companies innovating in beauty tech, is leveraging the latest tech for sales and marketing too with a presence on online B2B marketplace Alibaba, interactive VR product showrooms, and more.
Still, leading-edge beauty tech companies know the value of in-person events, which is why you can discover many of these and other innovative companies at Cosmoprof Asia (15-17 November) taken place at the Hong Kong Convention and Exhibition Centre. Concurrently, Cosmopack Asia (14-16 November) focusing on packaging and contract manufacturing will be taken place at AsiaWorld-Expo.
Two Fairs, two venues! You can now register to redeem the FREE admission badge and enjoy exclusive benefits
*Free pre-registration will close on 8 November 2023.